Nursery decorating ideas & trends
and where to find inspo
In today's world, there are baby room ideas everywhere, from Pinterest and Instagram to thousands of Google searches. And, while it's great having access to so much inspiration, it can be overwhelming. We've gathered some of the biggest trends in nursery decoration for 2022 and a few of our own Nannycare favourites from the world of Influencers.
Top tip: for choosing you nursery theme
Whether you know the sex of your baby or not, remember when it comes to deciding a theme for your baby's room, you will be in your nursery almost as much as your baby. Whether it's settling them down for a nap, playing or feeding, your baby or toddler's room should be somewhere that you both feel calm and happy in too. Choose something you'll both love and want to spend time in
What are the 2022 nursery decoration trends?
Trends are driven by what's happening around us in our world. We quite often see them from Influencers but what lies behind the trend is often routed in what's happening in our wider society and culture. So, whether you're an 80's, 90's or noughties child, you can be sure that you own child's nursery will be very different from your own.
So what are the big trends for 2022 and what are they all about?
Gender Neutral
You may have decided to wait for the big reveal (but can't wait to get decorating) or of want to avoid stereotypical gender colours. If so, gender neutral tones and accessories are beautiful way of decorating before or after your baby's arrival. Whilst not a new trend, gender neutral nurseries aren't going away and you'll be in good company too with Mrs. Hinch and Millie MacKintosh.
Opting for gorgeous gender neutral bedroom for your little one certainly doesn't mean boring. So, feel free to still embrace colour. Almost any themes can be created in a gender neutral way so don't feel constrained.
Rainbows reinvented
Rainbow's have always represented hope for the future and in these last few uncertain years this optimistic theme has been embraced for nurseries. We saw rainbows around the world as a sign of hope and solidarity and they've continued to be a comfort as people add them to their homes with murals and gorgeous accessories. The new interpretation of rainbows uses more tonal earthy colours than traditional rainbows. There are some great options in wallpapers or if you fancy getting your paint brushes out, wall murals of full or half rainbows have become more popular with many video tutorials available. But if big decorating jobs aren't quite your thing, @everythingella2020 has added soft touches of rainbows through bedding, wall hangings and cushions with gorgeous natural tones in her beautiful nursery. Head over to The Little House of Rainbows for the perfect place to start with every colour combination of rainbow you could ever hope for.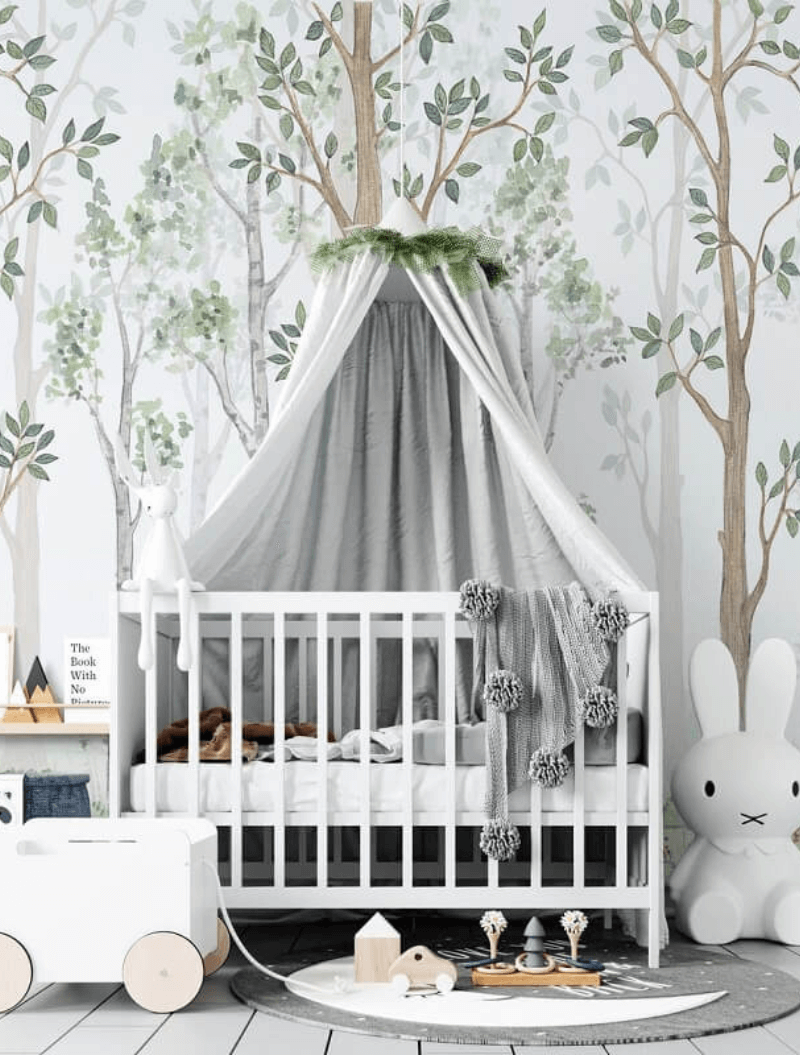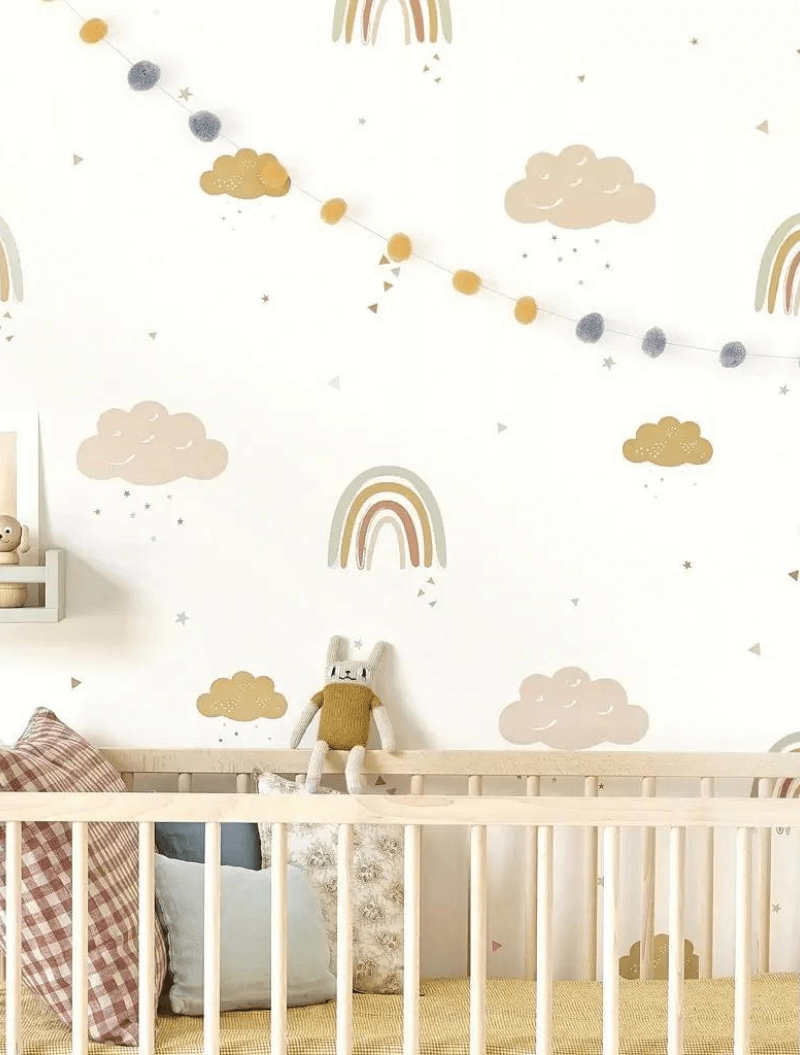 The calming touch of Hygge
The hygge calm and back to natural materials trend has been flowing into many rooms in our homes for a few years now, and we now see it in nurseries and playrooms. It's no surprise why, just looking at images of Hygge themes brings a feeling of calm. Hygge – pronounced "Huga", is a Danish term, ultimately meaning 'cosiness'. Early years practitioners have observed children settling and exploring more confidently in this environment which includes a homely feel with soft rugs, fairy lights and calm music. Day Nurseries shares ways to create a Hygge environment and the benefits to children's health and wellbeing. Head over to the amazing @ourownhygge for more inspiration or just to find some calm in amongst her beautiful images. And if the nesting urge to purchase is strong, ScandiBorn have you covered!
Go wild in the jungle
Of course, animals have always been a firm favourite in nursery design but the farmyard friends of Old MacDonalds Farm, have largely been replaced by more adventurous nursery designs that connect us not just with animals but adventures too. Jungle and safari themes are the perfect way to embrace the gender neutral trend. Green is often the core colour with other earthy and natural shades, but you can just as easily inject some vibrant colours too. There has also been an explosion of amazing wallpapers and murals that will help you achieve the wow factor like this one from Munks and Me. and options from B&M that won't break the bank. You can find some inspiration via @carmen.plus.two who has combined the elements of jungle and natural tones perfectly and then let your imagination… run wild!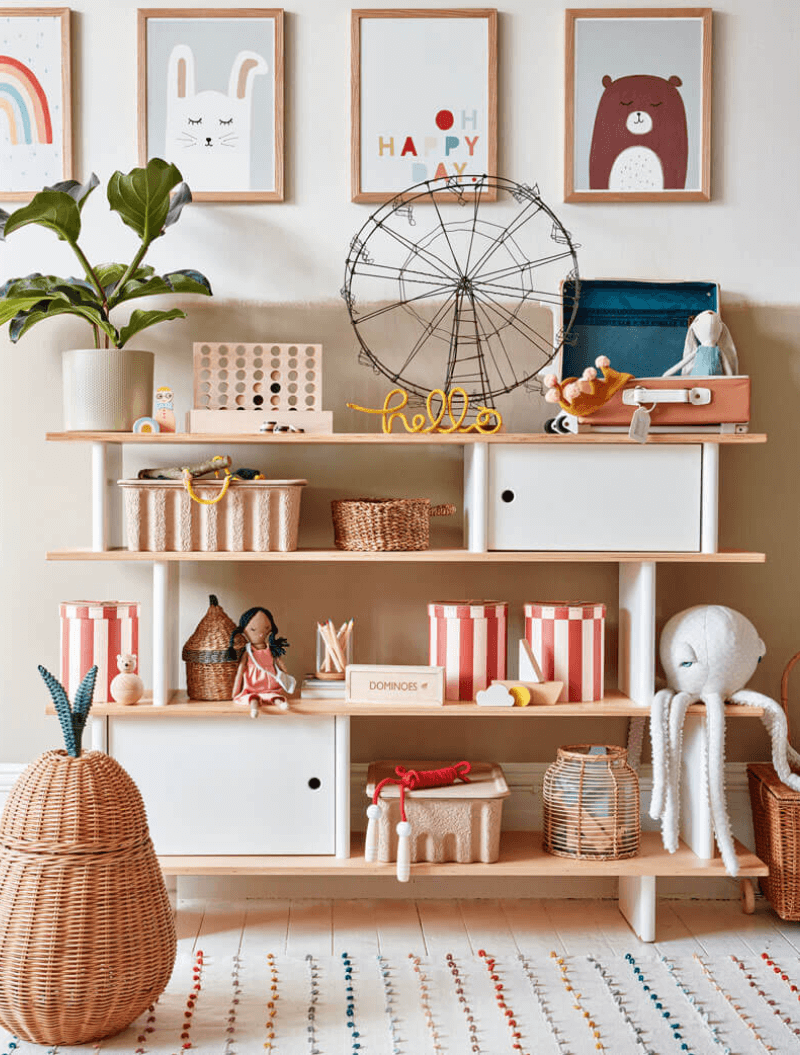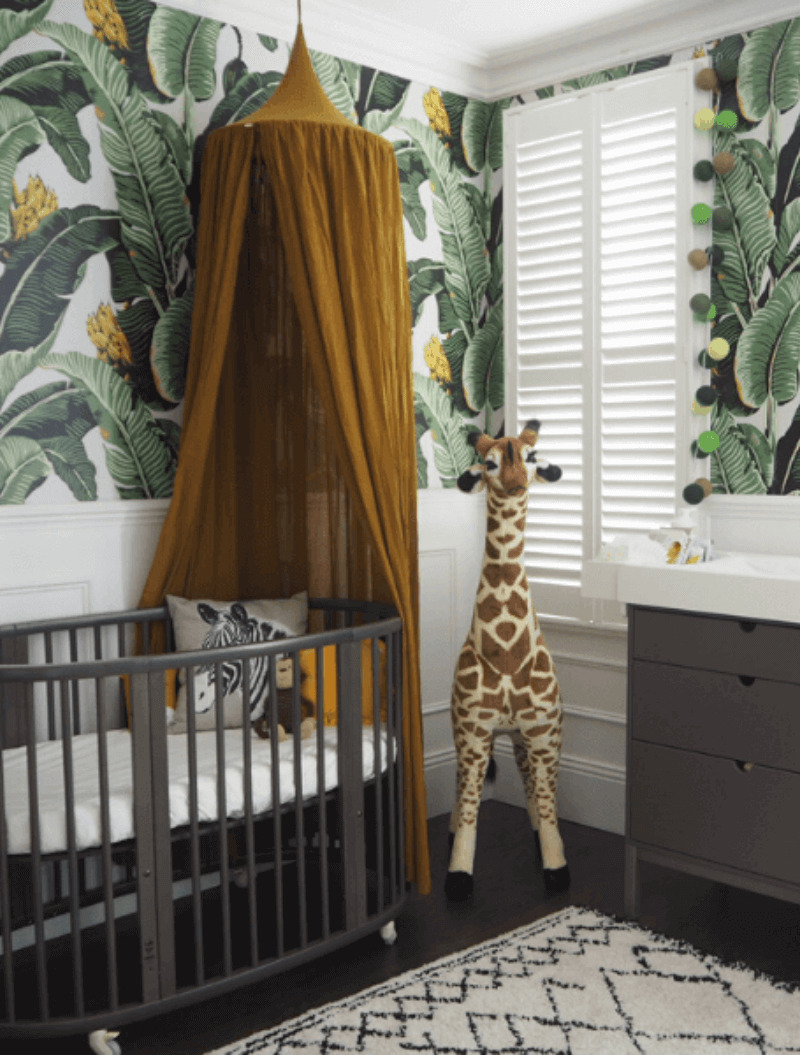 Trend Blending
Lots of these gorgeous trends do also overlap. So don't feel you have to stick slavishly to a single theme. Want a Hygge theme with jungle animals? Hop over to @ourownhygge who has done just that. Trends are simply to give you inspo to find your own style and create the nursery that's right for you and you little one.
Insta Inspo
Don't let the inspiration stop there. Here are some of our fav Instagram accounts to keep those creative juices flowing;
Over to you…
This is your nursery, and the most important thing is you create the room where you and your child will love spending your waking and sleeping hours. Whichever theme you decide to go with, have fun with it!